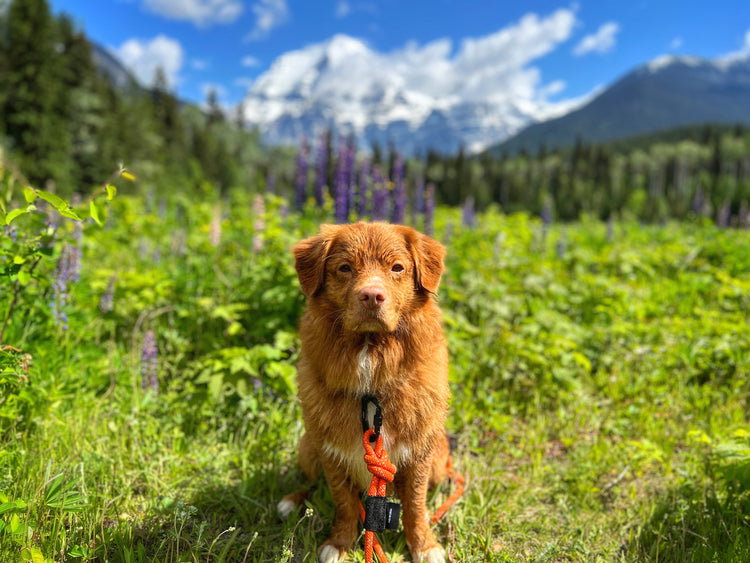 Articles - Adventure Gear For Dogs & Their Owners
At Rocky Mountain Dog, we've engineered the best dog harness for hiking or walking your dog in the neighborhood. Our no-pull harness helps you maintain control of your dog over challenging terrain, it's easy to put on in seconds and comfortable for your dog. Take a closer look at our all-terrain harness inventory and buy one today.
Looking online for the best dog leash for hiking? Rocky Mountain Dog carries an exceptional leash line called the All-Mountain Leash which is loaded with features. Use as a hands-free dog leash and wear it around your waist for exceptional control on hiking trails and dog walks.
Enjoy the best hike of your life after purchasing a dog collar and leash set from Rocky Mountain Dog. Our products improve the hiking experience for both you and your dog, offering greater control without compromising on comfort. Our hands-free leashes are among the best selling on the Internet today.
All Purpose Dog Harness For Hiking
Our All Purpose Dog Harness is the essential harness for hiking or walking your dog in your neighborhood. Don't get pulled on the trails, with our no-pull harness you will have much more control over your dog hiking, running and walking.
Shop online at Rocky Mountain Dog when looking for the best dog hiking gear for your outdoor adventures. we're proud to offer dog owners a terrific selection of rugged dog leashes, hiking collars, and all-purpose harnesses. Make sure your next hike is one that will be memorable for you and your dog wearing Rocky Mountain Dog gear.
A good dog leash will take the place of any dog hiking harness. Rocky Mountain Dog has created the perfect hiking leash- and it comes in two adventurous patterns: Rundle and Moraine. Your dog will love exploring side by side with you- and you'll maintain more control with less effort using our All-Mountain Leash.
Purchase a rugged hiking dog collar that won't choke your dog or become twisted during your hike. Rocky Mountain Dog carries the best dog collar on the market, made with comfortable webbed material and D ring for leash attachment. You'll wonder how you ever got by without this companion to our best selling dog leash.
Purchase the best hiking dog leash you've ever owned from Rocky Mountain Dog. Our Moraine and Rundle All-Mountain dog leash is best-in-its-class for rugged terrain walking, hiking, and exploring. Be sure to check out our sizing chart to get the best fit for your pet. See our FAQ section for more information.
Hiking with dogs can be very enjoyable for both of you- or it can be a nightmare, depending on the type of hiking gear you own. Rocky Mountain Dog manufactures some of the best dog hiking gear on the planet, including mountain collars and leashes that are exceptionally comfortable and make hiking more enjoyable.
 Purchase the ultimate mountain dog leash from Rocky Mountain Dog- our Moraine All-Mountain leash is everything you're looking for in an all-terrain dog leash- and more. Our best-selling hiking leash features extreme durability, comfort, and long-lasting reliability. Give your beloved dog one more reason to look forward to the hike.
 Are you tired of searching for 'Off-Leash Dog Parks Near Me' and coming up empty-handed? If your dog hates being walked with a collar and leash, we highly recommend Rocky Mountain Dog's All-Mountain leash and Rundle Alpine collar for the most comfortable all-terrain walking and hiking possible.
Rocky Mountain Dog has designed and manufactured the perfect outdoor dog collars, made from high quality materials and designed for comfort and easy use. If your dog loves exploring the great outdoors as much as you do, make sure you take a closer look at our Rundle Alpine Dog Collar for exceptional comfort and control.
Rocky Mountain Dog carries the best outdoor dog leash on the market. If you're tired of using an inferior leash that doesn't last or doesn't offer the control you're looking for while walking your dog, we invite you to check out our inventory. Our leashes are designed to provide more value for your investment than other products.