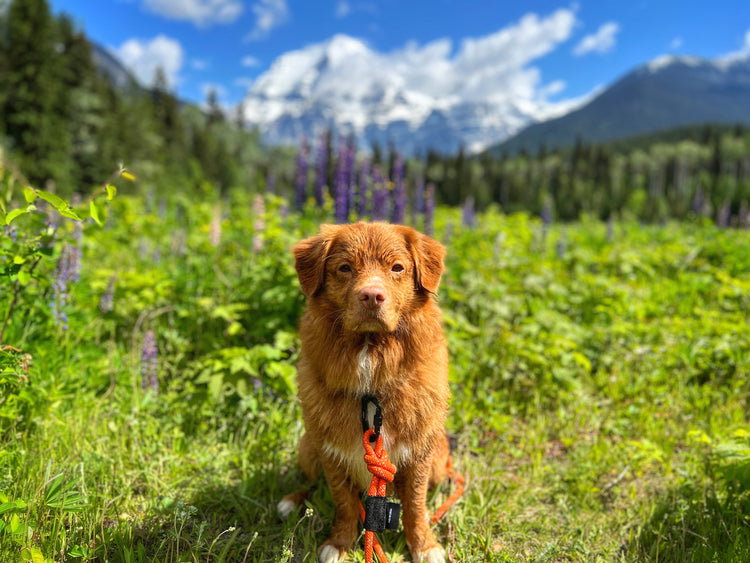 Outdoor Dog Collars
Although many people purchase dog collars frivolously, there are a lot of things to consider when choosing an outdoor dog collar for your best friend. Perhaps the first and foremost thing to consider, at least for the true outdoor dog, is the need to have an outdoor dog collar that is tough and durable. In other words, if your dog is a nature lover, then you need a dog collar that is made for the wild! A great outdoor dog collar can withstand rain, snow, heavy brush, and whatever else Mother Nature can throw at it. Here at Rocky Mountain Dog, we sell fabric dog collars made from the most durable materials, available in custom sizes and colors according to your needs.
Some of the Things We Overlook When Considering a Dog Collar
If your dog was to get lost, your collar is what would identify him/her. For this reason, it is important to select a dog collar that is durable and has a designated spot for ID tags. The cool thing about having a customizable outdoor dog collar is that you can select a color that either stands out or blends in with your environment, again, depending on your needs. You need a collar that allows you to release your dog or secure your dog quickly when the need arises. Of course, for the best outdoor dog collars, shop online at Rocky Mountain Dog today.
Moraine Alpine Dog Collar
Choose your favorite color and appropriate collar size. The Moraine Alpine Dog Collar is an attractive and convenient outdoor dog collar. Able to withstand the thickest brush, weather, and lots of wear and tear, the premium Moraine Alpine Dog Collar is a must-have for the modern outdoor dog. Whether you and your pooch hunt together, play together or explore together, this collar was designed specifically for the outdoors.
Rundle Alpine Dog Collar
The Rundle Alpine Dog Collar is an easy-to-use everyday dog collar that's made from premium fabric, comes with a slick design, and fits comfortably around your dog's neck. This collar is perfect for the hunting dog as it has a separate ID tag attachment that won't rattle while your dog walks or runs.

The Rundle Alpine Dog Collar is one of the best outdoor dog collars on the market today! It features an aluminum D-ring for snap-on leash attachment, is 25 mm/1 inch wide, and has a handsome Rundle Mountain pattern design on the collar. Plus, you can get the Rundle All-Mountain Dog Leash to match your Rundle Alpine Dog Collar.
Our Dog Collars are Multi-Purpose
Whether at home or on the go; whether in the forest or at the neighbourhood park, our dog colllar selection is versatile and durable, performing well in any setting or environment. They can be used for all the things that collars are typically used for, including dog training.
At Rocky Mountain Dog, we value quality over quantity. That is why we don't have the largest selection of outdoor dog collars and accessories; we just have the best selection! Shop today and find your dog collar.