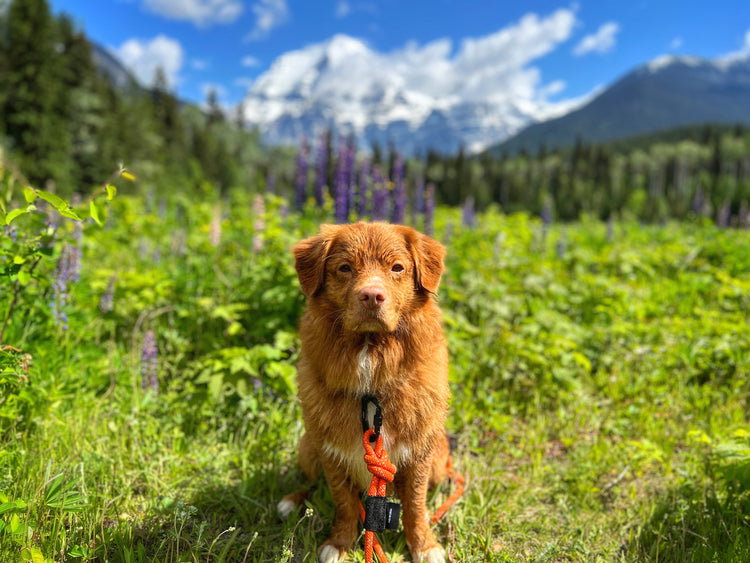 Best Dog Leash for Hiking
"no scene had ever given me an equal impression of inspiring solitude and rugged grandeur."
These words were said over 100 years ago by Walter Wilcox, as he discovered Moraine Lake. These words encompass our desire to bring forth products for your dog that will live forever in your memories. The beauty that he saw on that day is exactly the kind of products we want your dog to have, which is why The Rocky Mountains are so intriguingly incorporated in our designs.
The best dog leash for hiking should have some inspiration which is why we choose the Rocky Mountains for the design of our leashes. All our leashes feature popular places in the Rocky Mountains like Canmore, Banff and The Kootenays.
Our RMD dog leashes are unique, we've incorporated popular places in the Rocky Mountains in the nylon webbing to match your lifestyle of being outdoorsy and adventurist. 
These are features we've taken into account when engineering the popular RMD All-Mountain Dog Leash.
Durability: The webbing is carefully designed to keep up with your dog's active lifestyle.
Design: Our leashes have designs of places in the Rocky Mountains in the nylon webbing. 
Long, sturdy leashes: 1.8 metres (6 ft) in length and 25mm (1 in) wide.
Hands-free, waist worn: The leash can easily be adjusted to wear around the waist, super comfortable - ideal for walking around town, trails and hiking in the mountains. The barrel lock and D-ring allow for attachments of accessories such as poop bags. 
Shock absorber: The leash has a bungee elastic to soften the pull of your dog.
Comfortable to use: The handle has a cushion that is soft on the handler's hands.
Safety: There is a traffic handle at the bottom of the leash to grab onto waiting for traffic or to hold your dog back in case you come across a rabbit or moose.
Easy to clean: Both the collar and the leash set can be washed in warm soapy water. Ensure that the soap is mild.  Drip-dry.
Shipping: We ship our products worldwide.  We have a 30-day return policy but the product must be in good condition.  We can also exchange the product if it is defective.
Buy the best dog leash for hiking from RMD

Choosing RMD for your dog leash when hiking will make your adventures more satisfying and memorable. We are on adventure in the outdoors as well and test our products in the Rocky Mountains so we know a thing or two about what works outdoors.
You'll be happy choosing RMD for your next dog adventure. Stay wild and thirsty my friends.