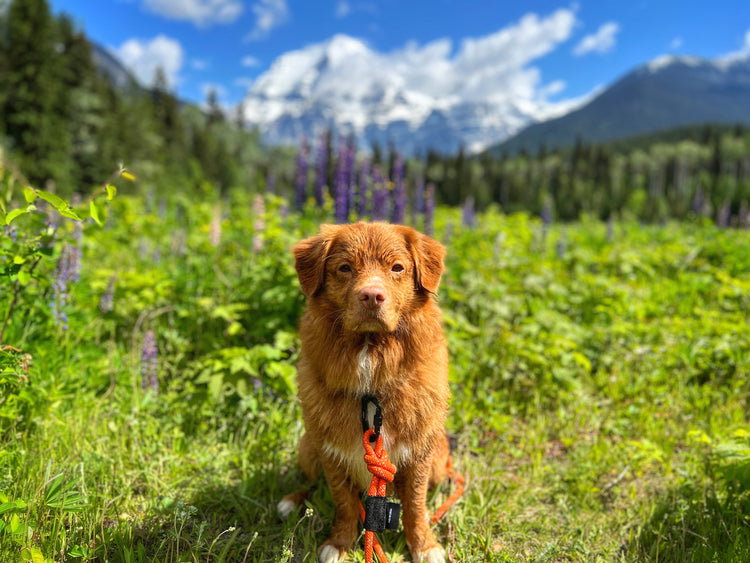 Hiking Dog Leash
Choosing the right hiking dog leash can make a big difference in the experience you and your dog have while out walking or hiking together. Don't be tempted to spare a few cents to purchase a cheaper leash when a quality hiking dog leash is so affordable. Rocky Mountain Dog has designed and manufactured what many dog owners consider the best hiking leash on the market for superior control and freedom from constriction.
Two Visually-Appealing Options
Choose from our Rundle or Moraine All-Mountain Hiking Dog Leash, depending on the look you want. Our Rundle leash features a unique design that showcases Rundle Mountain and its iconic peak in Banff National Park. Our Moraine leash design is fashioned after the beautiful mountain peaks at Moraine Lake. Both offer the same, durable craftsmanship and features our leashes are most known for.
How to Select the Right Hiking Dog Leash
Choose a leash made with webbing for exceptional comfort your dog will very much appreciate.
Consider a Neoprene handle that won't rub or irritate your hand during long hikes.
Look for a leash with a handle clip for hands-free walking or running when the environment allows
Pay particular attention to the type of clip and look for one that is easy to clip with one hand.
Check online reviews when shopping the Web for added assurance that you're purchasing a product that's meeting the needs of other dog owners.
Spend More Time Hiking
A perfect hiking dog leash will inspire you to take more hikes with your beloved dog. Something that's easy to grab, clip-on, and go with will make a better impression than one that is cumbersome and difficult to use. We've designed and crafted our All-Mountain Dog Leash for the specific purpose of creating a better experience for you and your dog when it's time to head out to the hills, mountains, streets, or any other place you like to spend time together exploring.
Unique D-Clip For Convenience
If you carry a poo bag along on hikes or walks, you can certainly appreciate a leash with a built-in D-clip for attaching your dog's hiking accessories- and it's located in the precise area where clip-on accessories won't get in the way of your dog's comfort. Go ahead- purchase the best hiking leash you've ever owned and give your dog every reason to get excited about joining you on your next adventure. The right leash makes all the difference in the quality of your time together.
Shop Our Entire Inventory
Rocky Mountain Dog carries a terrific selection of Adventure Gear for your dog. Check out our Alpine Dog Collar for extreme comfort and security, also available in exclusive Moraine and Rundle patterns. Mix and match or stay true either product line- whichever you choose; you can be certain of guaranteed quality. If you or your dog is not thrilled with one of our products, return it within 30 days for a refund.