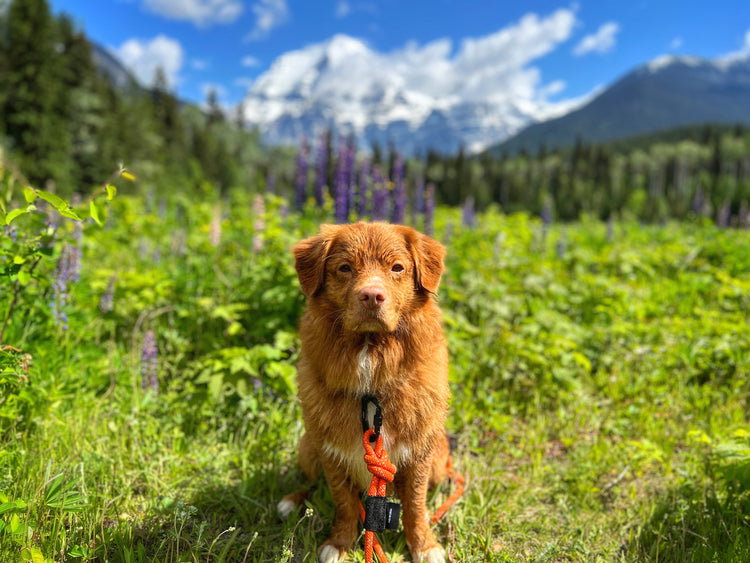 All Purpose Dog Harness For Hiking
At Rocky Mountain Dog, we've crafted our All-Terrain Dog Harness specifically for dog's who explore trails and for owners who go further. RMD harnesses are crafted from the strongest materials, premium fabric collars, metal d-rings, reflective trim for night vision and comfortable mesh provides the best experience for your dog.
What Kind of harness Should I Buy for my dog?
If you are thinking about getting a harness for your dog, but aren't sure which kind of style, fit, and function would be best suited for your pooch, there are basically three considerations to think about.
Comfort: How comfortable is the harness for your dog?
Control: How much control do you have over your dog while walking?
Style: Hey, the harness has to look good!
Comfort
Our all-purpose dog harness has 4-points of adjustment to ensure the greatest comfort for your dog hiking, running or walking in the outdoors. You can adjust the harness around the chest and neck easily to ensure the best fit and the inside mesh will be easy on your dog's fur that won't rub.
Control
Our harness has a front and back clip for your leash to ensure the greatest control over your dog. For the ultimate control, use the front clip which is at the dog's center of gravity to direct your dog in the direction you want to go and your dog won't pull.
You can also use the back clip if your dog isn't a natural puller and still have great control over your dog. The majority of harness do not have a front and back clip limiting your options. Our harnesses do giving you the option based on what you are doing that day like a walk around the block or a big hike.
Style
Let's admit it, your dog has to look good! Our harnesses come in four great colors - blue, metallic grey, orange and pick. The material is super durable and won't rip. There is reflective trim that outlines the harness to ensure you will be seen at night with night vision reflection. And there is a black mesh inside to ensure the greatest comfort for your dog.
Need to wash the harnesses? No problem, you can take soap and water to wash your harness, rinse it then hang to dry and it will look as good as new.
Buy a Dog Collar Harness Online at Rocky Mountain Dog Today
Whether you are heading into the mountains or walking in the neighbourhood, RMD All-Terrain Dog Harness is the best harness to buy your dog. It is loaded with features and priced right for a great value. Check out our All-Terrain Dog Harness on our website today!