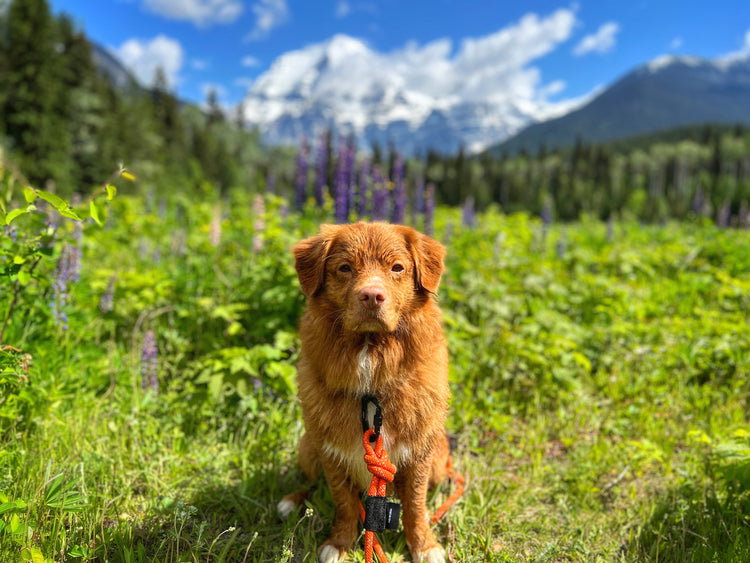 Outdoor Dog Leash
At Rocky Mountain Dog, our mission is to inspire others to enjoy the outdoors with their dogs making memories along the way. We've designed our dog gear specifically for those who like to explore more with their dog outdoors.
Our outdoor dog leash are made withstand the harsh conditions of the Rocky Mountains and are tested in areas like Banff and Jasper National Park. 
Dogs must be on leash in provincial and national parks in Canada, fines can be up to $1,000 for repeat offenders. When dogs are off leash there is a potential for conflict with wildlife.
Our main focus is to give you and your dog wonderful experiences in the mountains or outdoors. This should be an adventure without limitations. We have designed two of the finest dog leases for just this very occasion.
All-Mountain Dog Leash
There has been a lot of time and effort invested in bringing this amazing product to the market. It is everything you would want in an outdoor dog leash  incorporating functionality, durability and outdoor appeal.
The appeal factor is something we thought about vigorously because we wanted to bring that unique feel to all of our products. All designs are based on locations in the Rocky Mountains because we are inspired by the mountains and fresh air, we just wanted that inspiration to come across in our designs.
Learn more about the All-Mountian Dog Leash.
The lease is very versatile, it is a hands-free dog leash so you can unbuckle the handle and make the loop bigger to wear the leash around your waist giving you more room to maneuver and greater control since the leash is around your centre of gravity. With the versatility of the leash around your waist, you can easily go for a long hike or run on a trail.
Detailed Features of our All-Mountain Dog Leash
The word is out, the All-Mountain Dog Leash is your everyday leash that blends durability, function and outdoor appeal. This adjustable leash can be used as a hand-held leash or around your waist for hands-free walking or running. 
KEY FEATURES:
Handle clip for hands-free walking or running
D-ring and barrel lock for accessories/poo bags
Neoprene cushioned handle for easy holding
Zero-shock stretchy webbing 
Durable webbing
Traffic handle for more control
Easy to use clip to put on a collar
1.8 meters/6 feet long, 25 mm/1inch wide
Rundle Mountain Design
Grab your All-Mountain Dog Leash today!
Explore with your dog
The desire to explore the outdoors and find something new every weekend is within all of us. It's even better when you can do this with your dog. Let's make some memories with our dog and if you can do so with one of our leashes, even better!