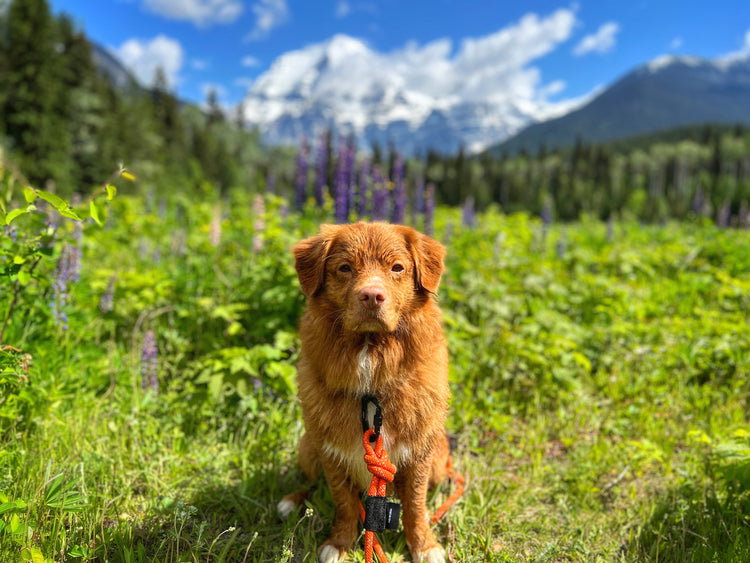 Dog Hiking Gear

Rocky Mountain Dog's designers and manufacturers know you're looking for the best dog hiking gear on the market- and we work hard to deliver some of the best dog hiking gear on the market. If you love spending time with your dog in the great outdoors, you're going to appreciate how our all-terrain and mountain gear makes it more enjoyable to take your dog along on adventures.
Get Free Hiking Gear
When you shop online at Rocky Mountain Dog and combine our rugged All-Mountain Dog Leash with a Combo Set, you'll receive a free poo bag dispenser. Our dog hiking gear is a terrific deal, compared with other similar products being sold; free hiking gear makes shopping with us even more affordable.
Moraine or Rundle Alpine Dog Collar
The Alpine Dog Collar is the heart and soul of any walking, running, or hiking experience with your dog. We've invested heavily into research to design and create the perfect all-terrain hiking collar in Bluebird or Sunshine pattern. The Alpine Collar is available in a range of sizes, so be sure to select the appropriate size for your dog to ensure exceptional comfort. We hear from customers nearly every week who tell us they have resorted to digging through a pile of collars and leashes every time they want to take their dog out on an excursion, but are never able to find a match that is ideal for all conditions.
Meet The Alpine Dog Collar and All Mountain Leash
You'll never rummage through a bucket, box, or corner pile of accessories again. Our Dog collars and leashes were made for you and your dog's comfort in mind, with special consideration to control without being too constrictive. Our dog hiking gear comes with built-in D-Clips for accessories, neoprene cushioning for easy holding, stretchy, zero-shock webbing that is ultra-comfortable, and many additional features you'll both love right from the start.
Built Tough For Mountain Hiking
You won't find a better collection of dog hiking gear than our accessories on Rocky Mountain Dog. Along with an exceptional selection of equipment for your best friend, you'll also find hiking clothing and accessories for guys and gals, including:
Warm & Comfortable Unisex Hoodies- so soft and warm you'll never want to take them off.
Mountain Trucker Hats- in classic snap-back style to fit all sizes.
Rocky T-Shirts- inspired by the Canadian Rockies, the softest, most comfortable T in your closet.
Crewneck Sweaters- our best-selling year-round sweater for hiking.
Jersey Knit Cuff Toque Winter Hats- with embroidered Rocky Mountain Dog logo.
Fine Knit Unisex Beanie Hats- ideal for keeping your ears toasty warm on those early morning winter hikes.
See Our Complete Inventory of Dog Hiking Gear
Give your dog another reason to adventure by your side with our exclusive Rocky Mountain Dog gear. Don't forget to stock up on our Poo Mountain Poo Bags and Bag Dispensers.