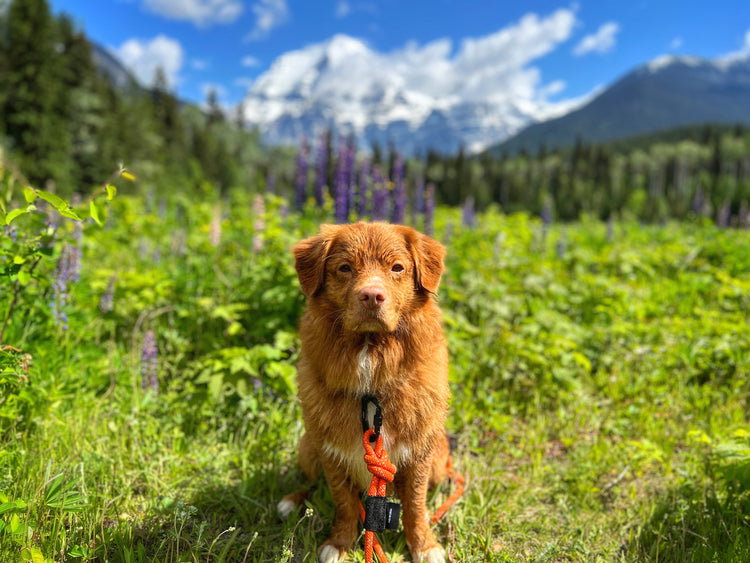 Hiking With Dogs
Few activities are more rewarding than hiking with dogs who love to hike as much as you do. If you appreciate spending time with your dog, walking, jogging, or hiking in the mountains, streets, or back pathways of our beautiful planet, you'll want to take a closer look at some of the best dog hiking gear being sold today. Rocky Mountain Dog has designed and created dog and dog owner-friendly gear that makes it more enjoyable than ever to take your dog on any outdoor adventure.
The Perfect Hiking Leash
No more digging through a pile of leashes when it's time to take your dog out for a jog or an early morning hike in the mountains. One of the biggest complaints we hear from our customers regarding our competition's accessories is the fact that no one leash seems to work for all types of outdoor excursions. Our All-Mountain Leash is not just the perfect everyday leash, it's also ideal for all of those multi-terrain adventures your dog loves so much- and you'll maintain exceptional control using our leash, without having to sacrifice on comfort.
Best-In-Class Dog Collar
New leash laws have made hiking with dogs more of a challenge, especially when it comes to finding a compliant collar that offers easy-on and easy-off clipping for your leash. Our Alpine Dog Collar comes with a built-in D-Clip for quick & easy leash attachment and is made from ultra-comfortable webbing that is also durable. Separate ID tag attachment will not rattle or get in the way while hiking. Select your preference, from Bluebird or Sunshine pattern for a rugged outdoor appearance inspired by the great Canadian Rocky Mountains.
Your Best Hike is Still Ahead
You don't need a reason to hike- but you may need a compelling reason to bring your best friend along every time you venture outdoors. Our dog hiking gear makes it more practical to gear up and head out, without the delays, hassles, and complications that come with so many inferior hiking products. Our leash-collar combination effectively replaces any dog harness, with simplicity in mind. With two simple clicks, you're ready to take on whatever obstacles are in front of you.
Save On Rocky Mountain Dog Hiking Gear
You can get all new promotions, information on the latest products, and our best sales delivered right to your inbox by signing up for our newsletter. We won't bombard you with a lot of useless material; we'll simply offer you more ways to enjoy time spent with your dog at some of the best prices on the Web.
Check Out Our Gear
We make hiking with dogs affordable, safe, and enjoyable: take a closer look at our rugged dog gear on the Rocky Mountain Dog website and see why more dog owners trust us with their outdoor adventures. If you and your dog are not completely satisfied with the quality or fit of any product you purchase from us, simply return it within 30 days for a refund.