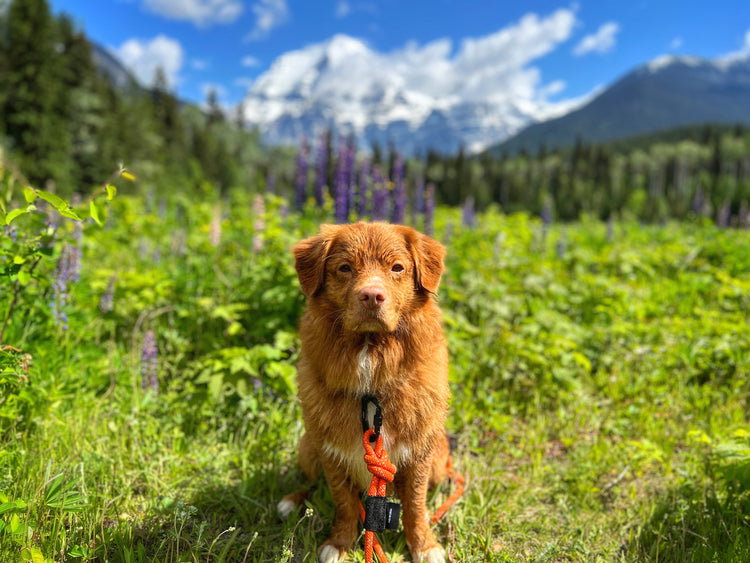 Dog Collar and Leash Set
Dog lovers know that choosing a dog collar and leash set is not always an easy task.  A good dog collar and leash set must be comfortable and easy to use to use for the dog and the owner.
At Rocky Mountain Dog, we understand this and have made the best dog collar and leash set tested in the Rocky Mountains and worn by dogs around the world.
Our dog collar and leashes have mountain designs from popular spots in the Rocky Mountains like Banff, Canmore and the Kootenays. Own a piece of the Canadian Rockies, the most majestic mountains in the world.
Dog Collars
Our Alpine Dog Collars are made for adventures with your dog featuring a quick release buckle, easy to open and close.
The aluminum D-ring makes it very durable and sturdy for your leash to clip on to and a separate ring for your dog's ID tag to prevent rattling.
We have a wide range of sizes for your dog, check out the size chart that we use to determine the right fit.
Dog Leashes
What are some considerations when choosing a dog leash? 
Our RMD dog leashes are unique, we've incorporated popular places in the Rocky Mountains in the nylon webbing to match your lifestyle of being outdoorsy and adventurist. 
These are some considerations we've taken into account when engineering the popular RMD All-Mountain Dog Leash.
Durability: The webbing is carefully designed to keep up with your dog's active lifestyle.
Design: Our leashes have designs of places in the Rocky Mountains in the nylon webbing. 
Long, sturdy leashes: 1.8 metres (6 ft) in length and 25mm (1 in) wide.
Hands-free, waist worn: The leash can easily be adjusted to wear around the waist, super comfortable - ideal for walking around town, trails and hiking in the mountains. The barrel lock and D-ring allow for attachments of accessories such as poop bags. 
Shock absorber: The leash has a bungee elastic to soften the pull of your dog.
Comfortable to use: The handle has a cushion that is soft on the handler's hands.
Easy to clean: Both the collar and the leash set can be washed in warm soapy water. Ensure that the soap is mild.  Drip-dry.
Shipping: We ship our products worldwide.  We have a 30-day return policy but the product must be in good condition.  We can also exchange the product if it is defective.
Pricing: Our prices are pocket-friendly and excellent value.
Conclusion
Our matching leash and collar sets are the perfect combo for your dog when adventuring outdoors or for walks around the block. This set is practical, loaded with features and stylish to match your outdoor lifestyle. 
Get your leash and collar set today from RMD.