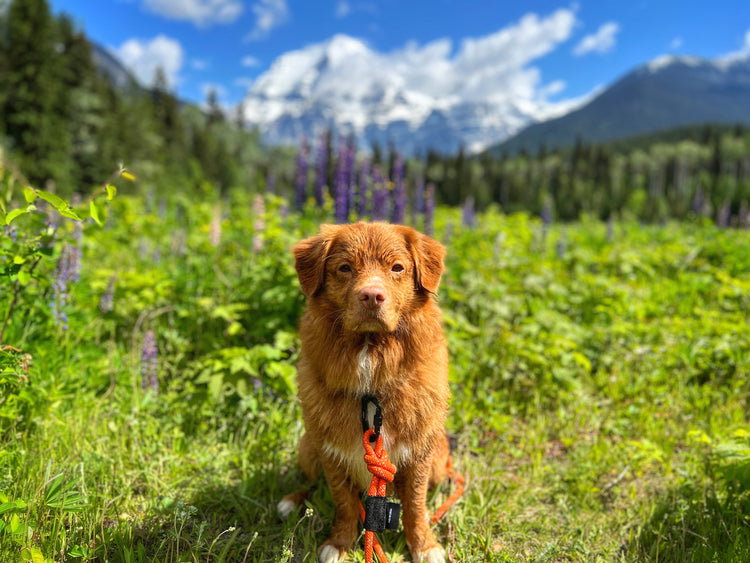 Mountain Dog Leash
It's not easy choosing the right mountain dog leash. Rocky Mountain Dog offers the best online selection of outdoor gear for your dog, including what our adventure dog lovers call the best leash for the outdoors. If you're looking for a leash that offers exceptional comfort without compromising on control, you've found it. Take a closer look:
Hands-Free Walking or Running
Poop bag accessory holder
Easy-Hold Neoprene Cushioned Handle
Stretchy Webbing With Unique Zero-Shock Function
One Hand Clip
Traffic handle
6 Ft Length 1 Inch Width
Rocky Mountain Pattern
Affordable Value
What Makes Our Mountain Dog Leash Unique?
Our dog leashes are inspired by the rugged Rocky Mountains, with durability built into every detail of material and design, so you'll notice a higher quality in nylon webbing and craftsmanship the first time you go on your dog adventure.
Besides all the awesome features like a hands-free dog leash, our leash designs are truly a one-of-a-kind mountain experience in the nylon webbing. Our designs that are in the leash are real places in the Rocky Mountains like the Three Sisters Mountains, Rundle Mountain and the Kootenays.
Hands-free waste worn leash
One of the main advantages of our dog leashes that everyone enjoys is the hands-free aspect where you can unclip the handle and expand the handle to clip it around your waste.
You can walk like this, hike or run which is a huge advantage with a hands-free dog leash. This will work with small dogs but large dogs as well.  It doesn't matter if you have a 100 lb German Shepherd, if the leash is around your waste that is around your center of gravity giving you ultimate control over your dog.
Another great advantage of this your waste is not the only thing you can clip the handle around. Have a belt on? Clip it around that. Backpack, clip it around the waste.
Going to the corner store? Clip it around a pole while you are in the store. So many advantages with this feature.
Industry Leading Guarantee
We guarantee the quality of our products for 60 days. If the quality of an item hasn't met your expectations, you can exchange it. We also guarantee the product selection advice we give. If something you purchased based on this advice turns out to be unsuitable, you can exchange or receive a refund.
Our customers expect quality and value, but even quality items have a practical lifespan. They will eventually wear out and can be damaged by accident, neglect or misuse, so those things aren't covered, but if we can, we'll fix them for a reasonable fee.
We view the spirit of this guarantee as our word and your satisfaction as a customer is our number one priority.
Grab your mountain dog leash today!