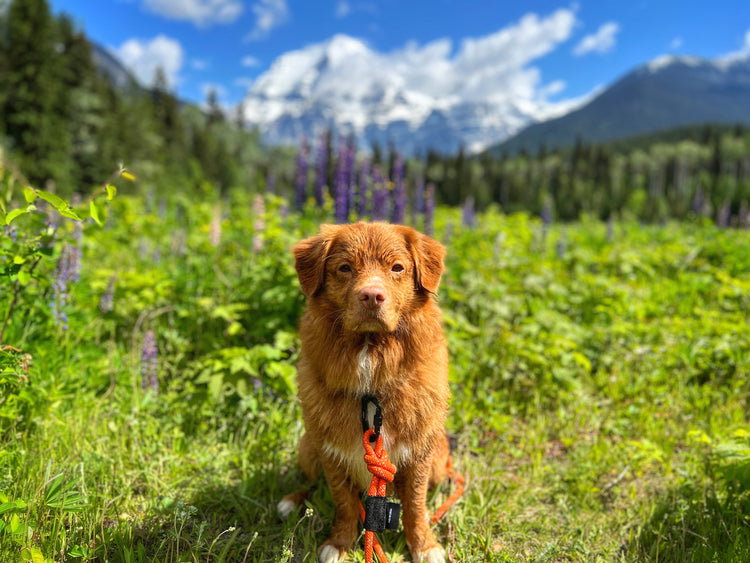 Dog Hiking Harness
What can be better than hiking in the forest than hiking with your dog!? Many Canadians enjoy hiking with their dogs, but they don't have the proper dog hiking harness or leashes. Further, they may not be privy to all of the items that are essential during a hike with their dogs. Rocky Mountain Dog would like to give you a few tips on dog hiking safety and must-bring items. Some of them, such as the dog hiking harness and leashes, you can buy from us. Some of the items may be laying around your home already.
Have the Right Dog Gear for Your Hike
Rocky Mountain Dog specializes in premium outdoor dog gear and accessories. Using only the finest materials, we create products that are must-haves for avid outdoor human/dog enthusiasts. When hiking in the woods with your dog, it's best to have a dog hiking harness and leash that is created especially for the occasion. Harnesses are better than collars when hiking, and Rocky Mountain Dog sells premium hiking harnesses and leashes that can withstand anything Mother Nature throws at them.
Bring a Good Leash with Extra Rope
When you go hiking with your pooch, make sure the leash does not extend past 6ft in length. This will keep your dog close to you and prevent the dog from running after anything that might catch his/her eye. Additionally, you might consider carrying an extra section of rope. This might come in handy if you need to anchor your dog to a tree for a while. Plus, if your first leash fails you will have a backup.
Make Sure Your Dog has His/Her Tags During the Hike
One of the benefits of using a collar is that your dog's collar can hold rabies tags and other identifying tags. Your dog's identifying tags should have the dog's name, your name, and your phone number on it. These tags will be very important if you get separated from your dog during the hike. Fortunately, our hiking harnesses have D-rings for easy leash attachment and separate loop for tags that will not jingle when the dog runs.
Why Not Get that Excess Hair Off While You're Outside?

Another item to bring on your hike is a dog brush or comb. The general approach to brushing any dog is a firm but gentle stroke from front to back while holding onto the dog's collar or head. If you encounter any burs or knots, try to remove them gently. Don't try to pull them or snag them. A small pair of scissors may come in handy when trying to remove them.
Water and Food
Remember, just like you, your dog is always at risk for dehydration. It's a good idea to carry about a quart of water over the course of a daylong hike. Bring along a simple Tupperware container to pour the water into. They're lightweight, and most people have a bunch of them laying around the house. The same can be used to transport the dog's food. If you're staying out over night, you may want to bring a little more food than you normally would. However, since you're out of your routine, your dog may not want to eat as much as usual. This is normal.
Don't Forget the Poo Bags