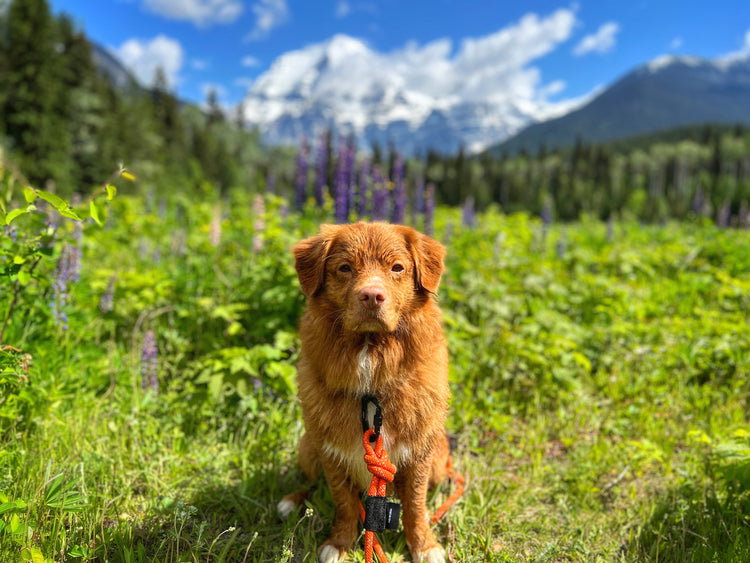 Our Story
OUR MISSION 
To inspire others to get outdoors and explore the Rocky Mountains with their dog, making a lifetime of memories along the way. 

WHO ARE WE 
We are a lifestyle brand that sells adventure gear to dog owners. As a small Canadian business we strive to create the best equipment for hiking with your dog. Our mission is to inspire others to explore the mountains making core memories along the way with their dog.
The mountains are our cathedral, they are bigger than life. Whether you're a mountaineer, day hiker, skier or trail runner we all have one thing in common. The mountains remind us that our problems are small in the grand scheme of things, time is fleeting and there is beauty in everything around us. We need to be present in our lives, and appreciate these moments in nature.  Having the right equipment to bring your dog along on these special days is very important. That's where we come in. 
HOW WE STARTED
It all started with Butch, without him none of this would have happened, he's the inspiration and face of the brand. 
Before I started this company I was going hiking with Butch and I could not find leashes that worked for me, or if I did they lacked personality.  I  decided to try making my own products, using the Rocky Mountains as inspiration.  I created leashes and collars with designs of Banff, Canmore and the Kootenays, hoping to resonate with people who live there and inspire people who don't.  
I wanted to make dog  gear tailored for hiking in the mountains, for the outdoors, for the harsh conditions of rain, snow, heat and cold. I  also know it's not just about the gear, it's a lifestyle. I  want our designs to help reflect that. 
WHERE WE ARE GOING
Now as an established company we continue to pay attention to what dog owners need to make hikes easier for them and their dog. We have expanded to more than just leashes and collars to incorporate many accessories such as Waste Bag Holders, collapsible travel bowls, sleeping bags and much more. 
Every design, every product, every thought revolves around the Rocky Mountains, a place we love and that is iconic around the world. All of our products are tested right here in Alberta, as the Mountains are our backyard. We will continue to bring you new innovative designs and products to keep you and your dog trekking up those Mountains. 
If you remember a special moment in the Mountains or the outdoors and we were a part of that, that's the stuff that gives us goosebumps and makes us work hard to continue to bring you good quality products for your dog.  
Thanks for being here and supporting us.  We love seeing your adventures! Don't forget to tag us and follow us on our socials. 
Be different, be wild and never settle with Rocky Mountain Dog.