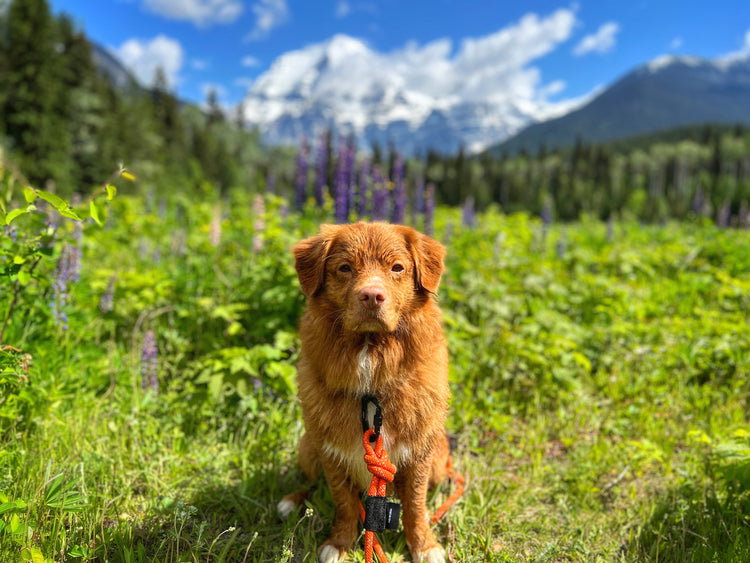 Best Dog Harness for Hiking
Mountain peaks, pine trees, the smell of fresh rain and the cheerful chirping of birds, this is the perfect hiking day. The trail can be daunting at times but with our most faithful companion by our side, you can conquer anything mother nature gives you.
Going hiking in the mountains is both exhilarating and challenging at the same time. This is why our mission at Rocky Mountain Dog is to make your experiences as memorable as possible.
Dog owners don't always know which dog harness to purchase when heading out into the mountains. It is best to consider these factors when purchasing your next harness for your dog.
Comfort and Utility
Comfort and utility is something we carry close to our hearts when creating our dog harnesses. We know our pups need to be comfortable when we're hiking and we need the harness to be practical. These two factors are paramount in making the best dog harness for hiking.
The RMD All-Terrain Harness has 4-points of adjustment for the chest and neck to ensure the ultimate fit and comfort for your dog.
The harness has a mesh inside that breathes for ultimate comfort, the buckles at the back and front adjust for the perfect fit, it's practical with reflective trimming for night vision and easy to hand wash with soap and water.
No pull harness
We've all been there when our dog is pulling us down the street and is worse when you are hiking on a trail with squirrels and fresh air smells. The harnesses comes with front and back leash clips giving you the flexibility on how much control you want. 
If you clip it on the back the harness is closer to the dogs center of gravity so you won't feel the pull as much. If you want ultimate control, clip the leash on the front clip for that no-pull dog harness feeling.
Sturdiness and Durability
Our dogs are hard workers running trails, swimming in lakes and jumping for sticks so a harness can go through a lot with all this outdoor activity. 
We've constructed the ultimate dog harness to keep up with the most active dogs and we test it in the Rocky Mountains which has the most demanding terrain anywhere in the world. 
Our harness comes with reinforced stitches for the clips and straps, strong metal d-rings for the leash and the material is strong and comfortable with reflective trimming for night vision.
Choose RMD For Your Dog Harness
We love dogs and will continue to evolve and improve our dog harness to ensure the best experience with your dog outside. Our mission is to inspire others to enjoy the outdoors with their dog making memories along the way. If we can be a part of that with the best outdoor dog harness then we've done our part. Stay wild and thirsty my friends.