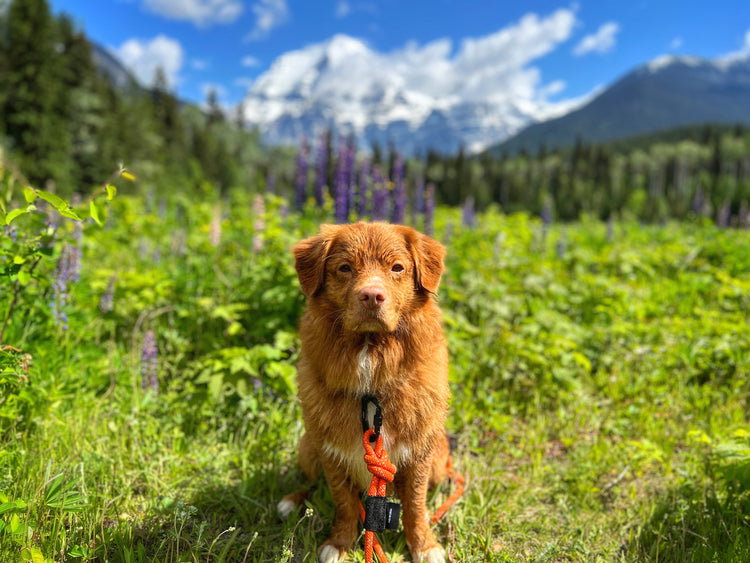 Hiking With Your Dog
Go hiking with your dog confidently with dog hiking supplies from Rocky Mountain Dog. There's no need to leave your best pal at home when you head out to the trails. Think of Rocky Mountain Dog as your canine outfitter for outdoor adventures. Your four legged friend can hike happily along with you, under control with a hands-free leash, collar, or
all-terrain dog harness
. When the brightness of the sun or a change in the weather requires it, shield your dog's eyes with our
protective dog goggles
.
Be prepared to share the beauty of the mountains with your furry friend. Outdoor adventures are better with a canine companion, but it's important to have the right gear with you for a happy hike. At a minimum, you'll need poop bags and a
leash
that keeps the most enthusiastic canine companion under proper control when distracted by a squirrel, bunny, or other dogs.
Depending on the time of day or the season of the year, your dog may need a winter jacket, protective and soothing
paw and nose cream
, or a backpack to help you carry light supplies for your time on the trail.
Here at Rocky Mountain Dog, we love the majesty of the mountains and the way they help us keep things in perspective. Going hiking with your dog gives you the opportunity to make and share memories of beautiful and inspiring places, and your dog will be there with you in the photos you share with friends later on.
You've seen that sad and worried look in your dog's eyes when you head out without him. Leave the guilt at home and take the dog with you. Your dog will be delighted to be invited along for the adventure, and happy to be protected and helpful our dog hiking supplies.
Of course, your dog's human needs a few things for a happy and successful hike, too. Shop our women's and men's apparel selections for hats, hoodies, sweaters, and lip balm. Pack an extra shirt or sweater in your dog's backpack in case of a change in the weather. You'll find what you need at Rocky Mountain Dog to discover new trails with your dog.