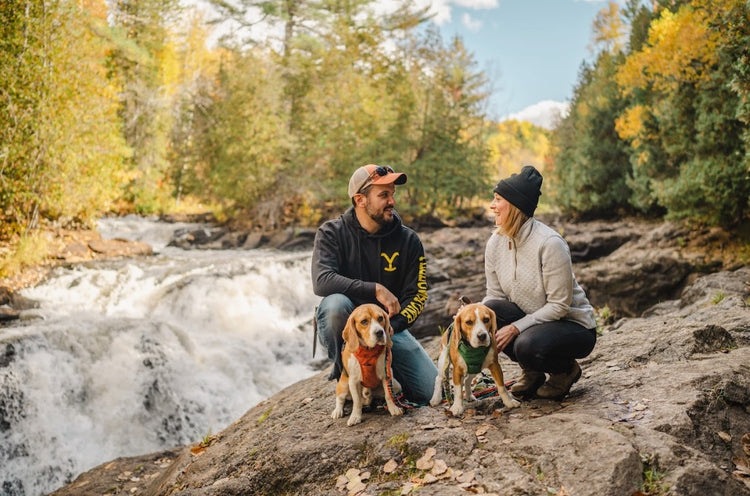 Simon, Ashley, Skipper & Goose
Simon and Ashley are passionate about their boys Skipper and Goose, who they affectionately call the Bugs. Residing in Calgary, AB they are hiking enthusiasts and love taking the bugs on Nosehill and to the Rocky Mountains. Simon is a Westjet Pilot and enjoys mountain biking as well as hunting when he isn't in the sky. Ashley is a valued member of the RMD team and has contributed to many of the new designs and products. Meaning she really believes in the value of these products and enjoys switching up Goose and Skippers outfits for the seasons! 


Follow their adventures: @merrylittlehounds 
What is your favourite activity to do with your dog(s)? 
We love hiking in the mountains with our boys. It's not always possible and we often find ourselves on Nosehill which is such an amazing place to have in your backyard. 
What do you love most about your dog(s)?
Skipper: He's fearless, that dog leaps before he looks and it's quite entertaining but also scary haha! 
Goose: He is so chill. He just goes with the flow and never gets stressed no matter what we are doing. I need to follow his example more! 
Where is your favourite place to go Hiking? 
We love hiking in Kanasakis. The trails are amazing and we find they are not as crowded as say hiking in Banff and Canmore. We recently completed Arethusa and it quickly became our new favourite hike. 
What other activities do you do with your dog(s)?
Skipper loves to play with toys so we do a lot of that with him. Goose is a show dog and has his CKC championship. We have really enjoyed showing him and becoming close with all the beagle breeders here in Calgary. 
What is your favourite RMD product? 
We love the All Mountain Leash. We never go hiking without it. I was looking forever for a long lead and when I found the 8ft it was a game changer. We both love walking hands-free and the easy clip-on and off option on the leash is so great for picnic breaks and switching dogs when needed. We are currently loving the Ranger Orange Camo and Yellowstone leash patterns. 
Why would you recommend RMD products?
They are functional, durable and have amazing patterns and colours. I find other brands to lack character and style. RMD products really represent places and activities that we love. I really enjoy switching their gear up for different seasons and all the colour options with RMD allow me to do just that! 
What is your next adventure? 
We really hope to afford a camper in the next few years and would love to take it down to the States and visit Montana and Colorado. The fall there looks amazing.
RMD Ambassador
@Merry Little Hounds